HEV Battery Remanufacturing
HEV battery remanufacturing (reconditioning) assembly line developed and validated
Component harvesting and verification
Inventory storage and maintenance
Pre-shipment screening - JIT shipment
Battery recycling
* Operational since 2006.
OEM HEV Service Programs
Ask us about our custom HEV Battery Service Programs that we can design based on your Hybrid Vehicle program needs.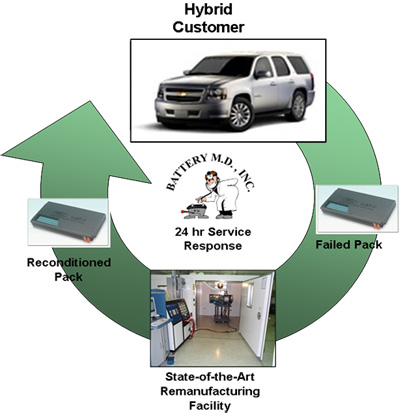 Provides a qualified remanufactured (repaired) battery pack to be used during Warranty Service rather than replacing a customer's pack with new part.
Reduces warranty costs by over 50%
Reduces repair time (24 hr response)
Increases customer satisfaction
Meets OEM legal warranty part requirements
Developed and Validated during major
Automotive OEM's Electric Vehicle Programs.